How to activate your ACC membership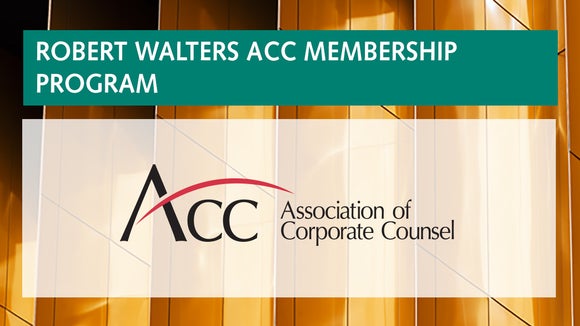 As a token of our appreciation, we would like to invest in your future success with a six-months complimentary ACC membership.
To redeem, please go to www.acc.com/recruitergift.
Please select Robert Walters as your recruiter in teh form.

The ACC is the pre-eminent global bar association for more than 40,000 in-house counsel spanning six continents and more than 85 countries.
ACC connects its members to each other and to the people and resources necessary for their personal and professional growth. Robert Walters has enjoyed a long-standing relationship with ACC and as a result, your six-months complimentary membership has been provided by us at no cost to you.
The Robert Walters ACC Program is for lawyers/attorneys who are placed in an in-house role by Robert Walters. ACC members are not eligible for the complimentary six-month membership through the program.
If you have been placed by Robert Walters post 1 January 2017, please redeem your 6 months complimentary ACC membership here: www.acc.com/recruitergift.